As you are probably aware by now, we openly release supermarket & banking locations each quarter.  But now we are taking it a step further, in creating a web application which allows you to enter a postcode, navigate to your current location, or place a pin on a map and return the closest supermarkets to you within a 10 minute walking distance.
Introducing...Locate!
Locate, our open application, is incredibly handy for those weekend trips away when you need to stock up on croissants for breakfast, crusty rolls for lunch or red wine for an evening tipple. In fact I recently used it when staying in an Airbnb in Edinburgh for a long weekend away with the girls. Adding a point to the map, quickly allowed me to see that there was a Co-op store located almost directly opposite to where we were staying. It was great to know that we didn't have to travel far with the wine!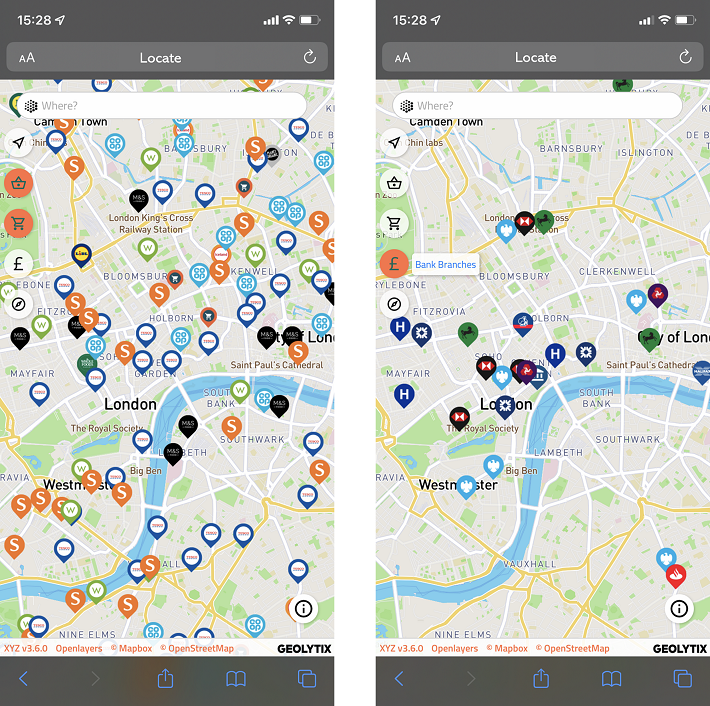 The 'find my nearest bank' functionality works slightly differently in that, we have assumed you already have a bank account with a particular provider, so when searching for your nearest branch you can be more specific with your search by clicking on the company's logo. For example, I have a mortgage with Nationwide, so if I wanted to pop out in my lunch break from the Geolytix office in Clerkenwell to enquire about something, I can use Locate to see that the nearest Nationwide branch is located in Angel (and it even plots my walking route for me!).
I have greatly enjoyed working with Agata, the lead developer, on this open application and I'm excited for its release. I'm sure there are a loads more use cases that we can add into it; it's still in development stages at the moment (we will be releasing it very soon) but if you would like to give it a try, and send any feedback or suggestions, please feel free to drop me an email at jasmin.fitzpatrick@geolytix.co.uk and I can send you through the details.
Jasmin Fitzpatrick, MAPP Product Owner at Geolytix
Image: Locate (Author's Own)