At the end of July we excitedly announced that GEOLYTIX has been shortlisted for the Data IQ Awards for 'Best Place to Work in Data'.  
Since the day Geolytix came into being we've been telling our customers where to go; how many stores, who to acquire, where to open and how to optimise home delivery and click & collect operations. But why use Geolytix?
It all comes down to our people. Geolytix is us. Relationships really matter; we are a team of individuals each with unique skill sets who cheer each other on and love spending time together. Our founders, self proclaimed data geeks, have cultivated a company grounded on data and people and as we celebrate 10 years of Geolytix this hasn't changed. People, Trust, Innovate and Be the Best aren't just values written on our company website but values that we genuinely live by everyday.
"As a smaller company we're delighted that being shortlisted helps to shout about Geolytix and encourage even more great people to join the team. I'm proud of our people and so pleased that we have received this recognition - there isn't a team out there that deserves it more." - Sarah, Chief Operating Officer
Data is our backbone. Our team is made up of some absolutely amazing and dedicated individuals who support Geolytix and its data backbone. From obtaining data from far-fetched countries (our latest include Azerbaijan, Kazakhstan and Thailand), to supporting our client projects and MAPP, no question or task is too much for the data team.
"We all know the truism of 'rubbish in rubbish out'.  Absolutely nothing we do would have any value without the accuracy of our underlying data.  There's certainly no doubt our Data Team have 'worthwhile' work.  Sometimes it's a hard slog of cleaning and checking, other times there's a eureka moment when we find a fantastic dataset in a new market.  And then there's the datasets that we lovingly craft and shape until we have a bright new shiny GEOLYTIX data product.  

Without doubt the Data Team at Geolytix are in high demand and well loved. The work is varied and we all cheer each other on. I'm tempted to refer to Squirrels, Beavers, and Geese - for any fans of leadership strategies!" - Samantha, Commercial Director
Giving back to the data community is vital. As well as being heavy users of open data (e.g. census), we see huge value in and are proud to contribute back to the open data community. We release (and maintain) a number of open datasets, including Retail Points (our most popular open dataset) which contains the details and co-ordinates of all supermarket locations across the UK and is updated once a quarter. We were recognised for our contributions to the community and won the Open Data Institute Open Data Business award, presented by Sir Tim Berners-Lee.
"We always knew that the reasons for founding Geolytix were centred around it's people. We soon realised without open data Geolytix would not exist as we use it every day. In return we release our own open data, which along with making us happy allows us to provide better quality data and analytics to our customers and establish Geolytix in the market place." - Sarah, Chief Operating Officer
We've supported flexible working from day one. We know just how important a work-life balance is, and this has been recognised from the day Geolytix first opened its doors. Whether its colleagues choosing to work part time so they can regularly volunteer, continue their studies, or work hours that fit around being there daily for school routines, this is part of the Geolytix normal.  
Martin's 2 days a week volunteering for Mudlarks makes us particularly proud and we were delighted to donate our recent fundraising efforts to this small charity.
"I've been enjoying the benefits of flexible working ever since I started at Geolytix, as it allows me to continue my career, as well as volunteer at Mudlarks, a local charity supporting adults with learning disabilities.  Prior to the pandemic, I volunteered one day per week, but with lockdown, there was a shortage of volunteers, and as an essential care service, Mudlarks needed to try to stay open.  I wanted to do my bit to help, and so asked if I could reduce my days at Geolytix to three, to enable me to volunteer for two days a week. There was no hesitation in agreeing to this, in fact it was really positively supported.  A great example of truly flexible, flexible working!" - Martin, Associate
Arabella, our latest addition to the team has joined us over the summer to gain work experience before heading off to UCL to study Maths. Diving straight in to work experience after leaving school, she has already tackled her first big data set, and survived her first team lunch.
"Spending my summer interning at Geolytix has been invaluable; I was included, counted on and valued as a member of a team from day 1. I got the opportunity to work in each department and learn numerous new skills in an industry I would wouldn't have had the experience to otherwise." - Bella, Intern
Physical and mental health is a top priority. Geolytix is a team without hierarchy; instead all doors are open and team communication is encouraged. Our weekly team meetings even include a spin the wheel, and whoever it lands on takes 2 minutes to talk through their week; it could be projects they've been working on, data they have found particularly fun to work with, or (as often is the case), successes and challenges at home - putting up a new shelf, painting their house top to bottom or attempting to buy a car!
"Joining Geolytix in January 2021, meant a virtual start, and this was something I was so worried about - what if I had questions? How will I get to know people? I needn't worry. Everyone is so friendly at Geolytix, I couldn't have asked for a warmer welcome, and the support hasn't wavered now I'm not the new kid on the block. The team were right when they said everyone's door is always open (and there are no silly questions)." - Kate, Communications Officer
Donna wrote a brilliant blog on how our team spirit and colleague support has made not only an enjoyable work environment but helped with overall wellbeing. We've supported Donna to achieve a mental health training qualification ensuring support is available for anyone who requires it.
"Working at Geolytix is like being with your friends and having a productive day in the process! Laughing is a guarantee, getting help and advice is easy, being supported and being supportive is easy! It's how a workplace should be. It should never feel like a chore and this definitely doesn't!" - Donna, Office Executive
Developing our people to be the best they can be is part of our core. Allowing colleagues the flexibility and space to discover new technology and techniques whilst delivering for our clients is an important aspect of our culture.
"I enjoy working in Geolytix as this company is a "family boutique" which 'modus operandi' is based on human relation but still enables to deal with the bigger clients. There is a lot of freedom in how you do things but also support when you need it. A great and fun team to be a part of" - Jacek, Director (Central Europe).
We are particularly proud of the apprenticeship scheme we launched in 2019. Rebecca joined us 6 months before the pandemic hit and has since achieved a Distinction in Data Analysis Concepts. Learning remotely with only virtual support from the team is no mean feat and is both a credit to Becca and the colleagues that supported her through the apprenticeship.
"The majority of my apprenticeship ended up being completed virtually, which came as a huge surprise! However, with the support of all of my colleagues at Geolytix and the resources that were made available to me, it went smoother than I could have ever imagined. I enjoyed developing both professionally and personally with Geolytix during the apprenticeship scheme and I am still continuing to do so almost 6 months after completing it." - Becca, Data Analyst
We are one team. With a team of 38, people are often surprised when they find out we have offices in: London, Leeds, Tokyo, South Africa, Poland, China and (with our intern Anusha recently joining), LA. With the team spread across multiple time zones, we work hard to ensure we are still one team, where everyone's voice is heard and input valued - no matter the time difference.
"Even though I haven't met my colleagues in person for 20 months because of the pandemic, and I'm 6000 miles (and 8 time zones) away, Geolytix still makes me feel like an integral part of the team. We all collaborate closely every day to deliver great projects to our clients, wherever they happen to be" - Luke, Business Development Director APAC
Our relationships and respect go beyond our work interactions. In the days where we had more freedom, highlights include a rounders game in a thunderstorm, surviving a murder mystery evening in Devon and navigating the Aude river in a kayak. The events of 2020 saw our social lives move to a virtual setting but that didn't stop us. Fizz Friday moved to zoom, we walked the length of the Great Wall of China and then across the USA, and our Great Bunny Bake Off and Christmas hat creations were an opportunity for some creativity and competitiveness.
"Right back from when I joined in 2015 when we were a team of 7, social & team activities have been an integral part of the GEOLYTIX ethos. Since then we've been shuffleboarding, embarked on a Monopoly pub crawl, taken part in the JP Morgan corporate running race, canal-boated down the Regent's Canal and even travelled to France for an 'away week'. People are at the heart of GEOLYTIX and it really is extraordinary to work with such a wonderful bunch of people. When the majority of your time is spent at work, it is so important to get on well with your colleagues (who are actually also great friends) and this has certainly helped to strengthen the business as a whole." - Jasmin, MAPP Product Owner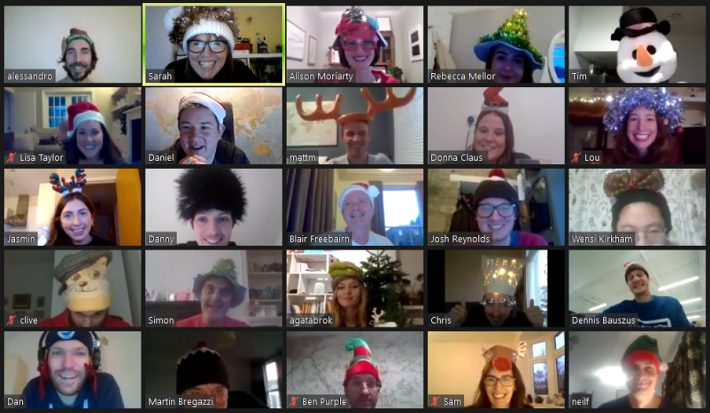 Title Photo (without award logo) by Jason Dent on Unsplash